"MAKING IDEAS MATTER:
My Life as a Policy Entrepreneur"
Representative Dwight Evans with William Ecenbarger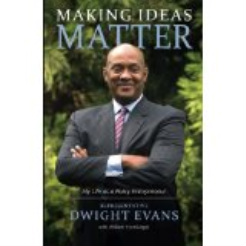 This book is a primer on mobilizing political power to achieve enlightened goals in a democracy.

This is a book about how good politicians can compromise without abandoning moral principles.

This is a book that will inspire future political leaders to hold on to their idealism rather than spiral into a cynical distrust of politics and government.

Dwight Evans show us that politics is a noble art, and with enough research, hard work and knowledge of the legislative process, politics can be the art of the possible.


Praise for "Making Ideas Matter"


Good public leadership is about both thinking and doing: developing a solution to a public problem and then bringing people together to make it happen. As his story richly demonstrates, Dwight Evans is one of those rare public leaders who can do both.
--Dick Thornburgh, Governor of Pennsylvania 1979-1987

When citizens -- and their leaders -- can talk with each other, and truly listen to each other, they can put aside their differences and find ways to agree and problems that can be solved. Dwight Evans talks, and listens and acts, and in his book -- especially the chapter on School Choice -- he shows us all how to do it.
-- Tom Ridge, Governor of Pennsylvania 1995-2001

Dwight Evans is an incredibly creative innovator of public policy. Whether it was financial literacy, supermarkets in underserved areas or neighborhood development, he found new ways to meet these challenges.
--Edward Rendell, Governor of Pennsylvania 2003-2011

Dwight Evans is the champion that all Philadelphia neignborhoods need. His vision and determination transformed the once blighted West Oak Lane into a highly visible, successful commercial corridor. As a business owner, I am thankful for his leadership and entrepreneurial spirit.
--Paulette Beale Harris, Owner of Paul Beale's Florist, a 41-year-old family owned business located on Ogontz Avenue in Philadelphia.
---
"CATCHING LIGHTNING IN A BOTTLE":
How Merrill Lynch Revolutionized the Financial World
Winthrop H. Smith Jr. & William Ecenbarger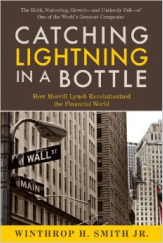 In 1939 Charles E. Merrill and Winthrop H. Smith came up with a radical idea for investing: democratize the stock market and bring "Wall Street to Main Street." Together they created a company that would earn the trust of small investors by putting their clients' interest first. To achieve this, they set down a series of guidelines for employees that came to be known as the Principles. While the rest of Wall Street scoffed, Merrill and Smith put their idea into action. Merrill Lynch expanded capital markets and fueled the growth of the American economy after World War II.

In 1974 Winthrop H. Smith Jr. came to work for the company that his late father had co-led for twenty-one years, starting in the "bullpen" as an entry-level investment banking associate. He rose steadily, working not only in investment banking but also in marketing, human resources, finance and sales management.

But in 2001 Smith chose to end his successful Wall Street career in its twenty-eighth year for one simple, compelling reason. He believed that the new CEO, E. Stanley O'Neal, did not understand the Principles, nor did he appreciate the nurturing culture and values -- known collectively as "Mother Merrill" -- that had made the firm one of the most successful and respected companies in the world. Without these in place, Smith was sure the company would falter.

He was right.

Catching Lightning in a Bottle –the first history of Merrill Lynch--traces its impact on the world of finance from the day Charlie Merrill opened his one-man shop on January 6, 1914, to the final shareholder meeting prior to its acquisition by Bank of America on December 5, 2008.


Praise for "Catching Lightning in a Bottle"

"Win Smith, son of a founder of Merrill Lynch, has written an accurate story of the rise and fall of America's preeminent brokerage firm. No novel could be as captivating, no characters as rich and fascinating as those who fill the pages of this remarkable book. Merrill, one of the few financial institutions with a soul, thrived and flourished because of strong and principled management. The firm's demise, according to Smith (who holds back nothing), resulted from flawed management. A great study of the dark side of economic Darwinism."
--Arthur Levitt, Former Chairman U.S. Securities & Exchange Commission

Catching Lightning in a Bottle is a timely history combined with intrigue and passion. It provides an accurate view of how our firm, Merrill Lynch, grew to prominence through a total commitment to clients and how losing sight of these principles led to the wounding of one of the world's greatest global franchises. This is a must-read for every executive in order to avoid these mistakes in the future. Now that our time-honored, principled approach to serving our customers has been restored, we are all thrilled to be
part of BOA/MER.
--Daniel P. Tully, Chairman Emeritus, Merrill Lynch & Co. Inc.

"This is a powerful and important story of what made a great institution and what brought it down, including some untold intrigue about the final years of Merrill Lynch. It is written by a man who knew it well and stood by his Principles."
–Josh Weston, Honorary Chairman, Automatic Data Processing, Inc.

---